It's time for us to look forward to what's coming, so we can build for it today. The GTM Delta team are excited to be presenting at the first NextFive full-day event on November 10 in Kansas City.
Generative AI seems like it's always the latest buzz. There's a good reason. You are probably already looking at tools and ways to put AI into your content or marketing workflow. If not, your vendors are integrating generative AI in their tools as well which means you have many options to choose from. This is both good and bad.
Our presence at this exciting, new NextFive event series is focused on meeting the next leaders in the industry and connecting the real use of generative AI with your business and technical requirements, safely.
Generative AI in Content Creation: Best Practices, Risks, and Real-World Workflows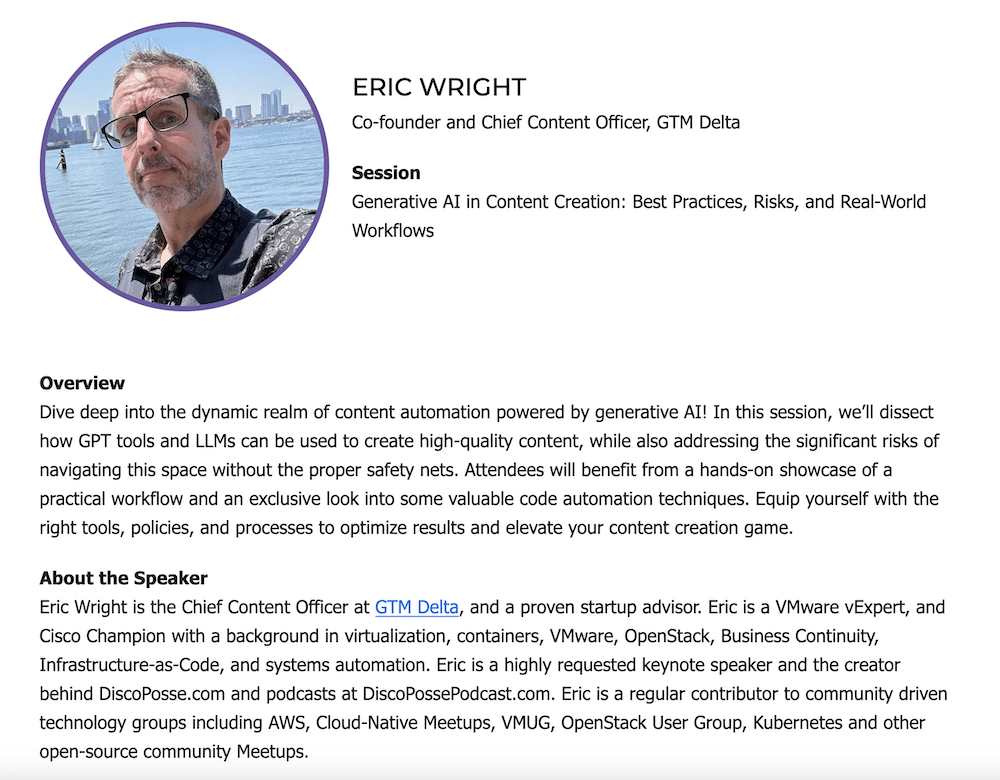 What's the Presentation About?
Generative AI models, GPT tools and LLMs, are increasingly integral in content automation. It's essential to understand both their potential and pitfalls. This session will provide:
A detailed overview of the current state of generative AI in content creation.
In-depth analysis of the risks associated with deploying these tools without the appropriate safeguards.
A live demo featuring a practical workflow for implementing generative AI in content processes.
An exclusive walkthrough of specific code automation techniques to enhance efficiency and accuracy.
You will have a chance to guide the session with interactive questions. The ideal outcome is always to make sure you get real working examples and solutions that are impactful.
That raises the next question: is this presentation for you?
Who is this Presentation For?
Content strategists, marketers, technical marketers, bloggers, agencies, data scientists, and software developers. It can be for anyone keen on integrating AI tools into content-driven applications. The presentation assumes an introductory knowledge of generative AI and aims to provide actionable insights for real-world implementation.
The goal is to have realistic, prescriptive steps to help you and your team leverage generative AI. We will include practical examples and live code samples to reach specific business and human outcomes.
Key Takeaways:
Grasp the technical intricacies of GPT tools and LLMs for content creation.
Implement robust safety measures to mitigate the inherent risks of generative AI.
Adopt a practical workflow that integrates AI tools effectively and efficiently.
For anyone involved with all types of content creation or marketing automation, this session will give you a comprehensive, hands-on perspective.
Stay tuned here for more on the event. Make sure to come and say hello during the event day and we would love to hear more about how you are planning to leverage generative AI and new processes.